White As Silence, Red as Song
by Alessandro D'Avenia


Hardcover: 272 pages

Publisher: Thomas Nelson (September 4, 2018)

Hailed as Italy's The Fault in Our Stars, this Italian bestseller is now available for the first time in English.

"I was born on the first day of school, and I grew up and old in just two hundred days . . ."

Sixteen-year-old Leo has a way with words, but he doesn't know it yet. He spends his time texting, polishing soccer maneuvers, and killing time with Niko and Silvia. Until a new teacher arrives and challenges him to give voice to his dreams.

And so Leo is inspired to win over the red-haired beauty, Beatrice. She doesn't know Leo exists, but he's convinced that his dream to win her over will come true. When Leo lands in the hospital and learns that Beatrice has been admitted too, his mission to be there for her will send him on a thrilling but heartbreaking journey. He wants to help her but doesn't know how—and his dream of love will force him to grow up fast.

Having already sold over a million copies in Italy, Alessandro D'Avenia's debut novel is considered the Italian The Fault in Our Stars. Now available in English for the first time, this rich, funny, and heartwarming coming-of-age tale asks us to explore the meaning—and the cost—of friendship, and shows us what happens when suffering bursts into the world of teenagers and renders the world of adults speechless.
Favorite Quotes:
Perhaps she was a dog in her previous life? I enjoy giving people a former life in my head. It helps explain their character.
I can't believe it. I am sleeping under the same roof as Beatrice and I didn't even know it. This sends me into hyperkinetic rapture.
Mom yells at me to get out of the bathroom and stop doing indecent things. Why don't grown-ups understand anything? What do they know about what's going on in your head? They're convinced that the only things in your head are the ones they can't do anymore.
Teachers are like boa constrictors. They wrap themselves around you when you're distracted, then wait until you breathe out to tighten their grasp.
The worst thing about life is that there's no instruction manual. With a cell phone you follow the instructions, and if it doesn't work, there's the warranty. You take it back and they give you a new one. Not so with life. If it doesn't work, they don't give you a new one. You're stuck with the one you have—used, dirty, and malfunctioning.
My Review:
I wasn't sure I was going to enjoy this book as I tend to avoid YA and it took a few beats to acclimate to the author's innovative and slyly colorful writing style. I soon found myself fully immersed in the cleverly crafted and jagged, yet fascinatingly compelling, stream of consciousness of Leo, a post-pubescent teenaged boy whose thoughts tended to ramble and flit about in a captivating and heart-squeezing manner. Leo's inner dialogue was wryly amusing as were his personal observations and hard-won and ironic teenaged wisdoms.
This wily author well remembers the insecurities and dramatics of youth and demonstrated remarkable insight into the rapid variability of their intense and extreme emotions, which soar to exhilaration as quickly as they can plummet to the vast pit of despair. I reveled in Leo's inner musings as he obsessed over every nuance of his infatuation with the lovely and angelic redheaded schoolgirl named Beatrice. His fertile imagination, creative use of nicknames, and fixation on defining colors kept a smirk on my face while reading. Leo's world revolved around playing soccer, his batscooter, his study friend Silva, the drudgery of school and teachers, and his undeclared love for the perfection known as Beatrice. This ingeniously well-crafted story detailed Leo's most transformative year of enlightening life-lessons.
Empress DJ
About Alessandro D'Avenia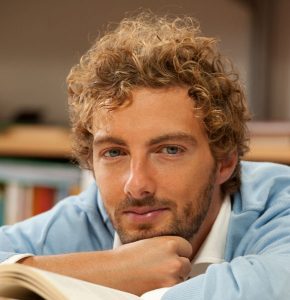 Alessandro D'Avenia holds a Ph.D. in Classical Literature and teaches Ancient Greek, Latin, and Literature at a high school in Milan. White as Silence, Red as Song was his first novel, published in Italy in 2010. It sold a million copies in Italy, has been translated into over twenty languages and was released as a film in 2012. Alessandro has since published four more books, the latest of which, Every Story is a Love Story, was published in October 2017.