All Aubrey Ellis wants is a normal life, one that doesn't include desperate pleas from the dead. Her remarkable gift may help others rest in peace, but it also made for an unsettling childhood and destroyed her marriage. Finally content as the real estate writer for a local newspaper, Aubrey keeps her extraordinary ability hidden—until she is unexpectedly assigned the story of a decades-old murder.
Rocked by the discovery of a young woman's skeletal remains, the New England town of Surrey wants answers. Hard-nosed investigative reporter Levi St John is determined to get them. Aubrey has no choice but to get involved, even at the terrifying risk of stirring spirits connected to a dead woman's demise and piquing her new reporting partner's suspicions.
As Aubrey and Levi delve further into the mystery, secrets are revealed and passion ignites. It seems that Aubrey's ghost gifts are poised to deliver everything but a normal life.
My Rating:
Favorite Quotes:
She'd given up on calling it prayer years ago. Prayers were meant to be answered. So far, Missy's had not been.
In five years he'd exhibited all the spontaneity of a wet match.
He'd watched his mother paint her whole face, kind of like a human paint-by-numbers. She could even do it with a cigarette in her hand, though she repeatedly insisted it was her last one.
He wore metal through so many pieces of flesh that Levi imagined unhooking them would cause the punk rocker to fall apart.
My Review:
I immediately tumbled into this captivating and consuming tale during page one and practically loathed reaching the last page, as I didn't want to leave the story behind. Thankfully I have the next two books to hopefully sate my appetite for this talented mastermind's cunning word voodoo. Her clever storylines and skillfully adroit writing style were ingeniously crafted, lushly detailed, and highly evocative. It was sublime.
Empress DJ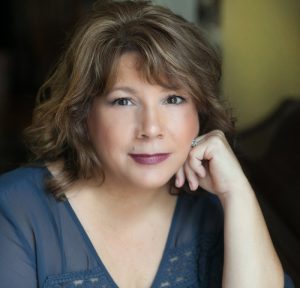 About Laura Spinella
Laura Spinella is the author of the Ghost Gifts trilogy—including Echo Moon, Foretold, and the #1 Kindle bestseller Ghost Gifts—as well as the highly acclaimed Unstrung and the award-winning novel Beautiful Disaster. She is a two-time RITA finalist who consistently receives reader and industry praise for her multifaceted characters, emotional complexity, and intriguing storylines.
Spinella lives with her family near Boston, where she can always be found writing her next novel. She enjoys hearing from readers and chatting with book clubs. Visit her at
www.lauraspinella.net
.