Herons Landing: A Small-Town Romance
Honeymoon Harbor Series
by JoAnn Ross

Mass Market Paperback: 496 pages
Publisher: HQN (May 22, 2018)
There's no place to fall in love like the place you left your heart
Welcome to Honeymoon Harbor, the brand-new, long-awaited series by beloved New York Times bestselling author JoAnn Ross, where unforgettable characters come face-to-face with the kind of love that grabs your heart and never lets go.
Working as a Las Vegas concierge, Brianna Mannion is an expert at making other people's wishes come true. It's satisfying work, but a visit home to scenic Honeymoon Harbor turns into a permanent stay when she's reminded of everything she's missing: the idyllic small-town charm; the old Victorian house she'd always coveted; and Seth Harper, her best friend's widower and the neighborhood boy she once crushed on—hard. After years spent serving others, maybe Brianna's finally ready to chase dreams of her own.
Since losing his wife, Seth has kept busy running the Harper family's renovation business and flying way under the social radar. But when Brianna hires him to convert her aging dream home into a romantic B and B, working together presents a heart-stopping temptation Seth never saw coming. With guilt and grief his only companions for so long, he'll have to step out of the past long enough to recognize the beautiful life Brianna and he could build together.
My Rating:


Favorite Quotes:
"On our first date, she cited all this damn research claiming vegans lived nine years longer than meat eaters." Jarle's teeth flashed in a grin in his flaming red beard. "After a week of grazing, I decided that her statistics might be true, but that extra time would be nine horrible baconless years."
Dottie's going to love dressing you. I swear to the Goddess that woman's goal in life is to get every Northwesterner looking like a unicorn vomited out rainbows.
Jarle tends to fall in love with every good-looking single woman who comes into the pub. I think it's the Viking in him. So far he hasn't carried any off, and doesn't harass them, just admires from afar, so I figure putting all that emotion into his cooking helps improve business.
You make him work for it, sweetheart. A woman's gotta let her man know from the beginning that he's going to have to do his share in a marriage. We women shouldn't have to do all the heavy lifting.
My Review:
I was a bit conflicted on how to rate this slowly developing and character-driven small-town tale of second chances. Being the first in a series there were lots of characters to introduce and considerable background and history to cover about the quaint little community and a long-standing feud between two of the early families that continued to inhabit both ends of the social ladder. The premise was relevant and interesting, and the storylines were meticulously detailed with the tones alternating between amusing, heartbreaking, and realistic with a few hot licks of sizzling sensuality to take some of the edge off the over-serve of sorrow and angst. The characters were likable, endearing, and admirable, but the story tended to stall on occasion due to the rather repetitive and tiresome retreading the young widower's grief and inability to move on. Despite my personal pet peeve toward angst, I look forward to returning to the characters living in this unique little enclave while hoping for a lighter beat in the next installment.
About JoAnn Ross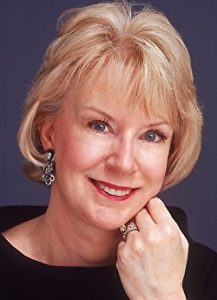 New York Times and

USA

TODAY bestselling author JoAnn Ross has been published in twenty-seven countries. A member of Romance Writers of America's Honor Roll of bestselling authors, JoAnn lives with her husband and three rescued dogs — who pretty much rule the house — in the Pacific Northwest. Visit her on the web at

www.joannross.com

.