The Bookshop on the Corner
by Jenny Colgan
"Losing myself in Jenny Colgan's beautiful pages is the most delicious, comforting, satisfying treat I have had in ages."—Jane Green, New York Times bestselling author of Summer Secrets
Nina Redmond is a literary matchmaker. Pairing a reader with that perfect book is her passion… and also her job. Or at least it was. Until yesterday, she was a librarian in the hectic city. But now the job she loved is no more.
Determined to make a new life for herself, Nina moves to a sleepy village many miles away. There she buys a van and transforms it into a bookmobile—a mobile bookshop that she drives from neighborhood to neighborhood, changing one life after another with the power of storytelling.
From helping her grumpy landlord deliver a lamb, to sharing picnics with a charming train conductor who serenades her with poetry, Nina discovers there's plenty of adventure, magic, and soul in a place that's beginning to feel like home… a place where she just might be able to write her own happy ending.
My Rating:


Favorite Quotes:
Nina felt nervous. In novels, this usually meant that the next person you met was going to try and kill you and the rest of the community was going to cover it up, or everyone would turn into a werewolf.
I looked like the sky had been freshly laundered: a bright TV-studio blue, with fluffy clouds passing across.
I think my van has a death wish... It's trying to kill itself. Sometimes with me in it, sometimes on its own. Maybe it's haunted.
I know you're meant to read to them, but he gets really bored and wobbles off or tries to bite something. Mostly the biting thing... All our books are ripped to shreds... Someone asked me if we had a dog and nearly said yes.
Nina wasn't exactly sure what they were doing. It didn't seem to make sense until she started concentrating. The men were hurling the women around at breakneck speed, and it took her a moment to realize that they were dancing. It looked absolutely brutal.
In their buggy, the twins set up a cacophonous roar. Hattie didn't go anywhere without a halo of crumbs around her, and outside the van was no exception. 'Are you doing story hour?' Hattie was constantly trying to persuade Nina to do a story session that involved her leaving all the children there, but Nina strenuously refused, muttering 'Health and Safety' as a warding-off spell, to which Hattie had once sadly responded, 'Well, I don't mind if you lose one of them, I've got loads of others,' and then laughed it off a little too shrilly.
My Review:
I would imagine Jenny Colgan would be a fun friend to have; I adore her clever wry humor and witty turn of phrase. She is wickedly funny and I frequently laugh aloud while reading her comical yet insightful and touching stories. I could read her books every day and never tire of her word-craft. In The Bookshop On The Corner, Nina is a painfully shy bookworm, who seeks comfort and escape from the noise and stress of daily life by reading - about anything and everything. Her peaceful and quiet existence was rudely interrupted when she lost her perfect job as a librarian due to cut backs. To maintain coexistence with her beloved books and to continue her mission to encourage reading, she bravely strikes out with her own enterprising mobile bookstore from a van she found online, although driving it turns out to be a rather daunting experience for the timid little woman. I reveled in seeing Nina finding her stride and building in confidence and assertiveness as she ventures out with her van and interacts and quietly touches the lives of others, often filling a deeper need than just a lack of reading material. The writing was refreshingly clever and breezy; the characters were humorously described and endearingly quirky. Ms. Colgan has a lovely way with words that is practically visual and highly amusing. I loved every sentence and felt significantly more than a pinch of regret to have reached the last page. I received this book for review from HarperCollins and TLC Book Tours.
Empress DJ
About the Author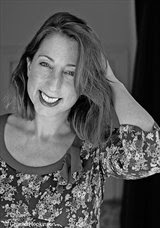 Jenny Colgan is the New York Times bestselling author of numerous novels, includingLittle Beach Street Bakery, Christmas at Rosie Hopkins' Sweetshop, and Christmas at the Cupcake Café, all international bestsellers. Jenny is married with three children and lives in London and Scotland.
Find out more about Jenny at her
website
, and connect with her on
Facebook
and
Twitter
.
ᐧ