The Kept Woman
by Karin Slaughter

Husbands and wives. Mothers and daughters. The past and the future.
Secrets bind them. And secrets can destroy them.
The author of Pretty Girls returns with an electrifying, emotionally complex thriller that plunges its fascinating protagonist into the darkest depths of a mystery that just might destroy him.
With the discovery of a murder at an abandoned construction site, Will Trent of the Georgia Bureau of Investigation is brought in on a case that becomes much more dangerous when the dead man is identified as an ex-cop.
Studying the body, Sara Linton—the GBI's newest medical examiner and Will's lover—realizes that the extensive blood loss didn't belong to the corpse. Sure enough, bloody footprints leading away from the scene indicate there is another victim—a woman—who has vanished . . . and who will die soon if she isn't found.
Will is already compromised, because the site belongs to the city's most popular citizen: a wealthy, powerful, and politically connected athlete protected by the world's most expensive lawyers—a man who's already gotten away with rape, despite Will's exhaustive efforts to put him away.
But the worst is yet to come. Evidence soon links Will's troubled past to the case . . . and the consequences will tear through his life with the force of a tornado, wreaking havoc for Will and everyone around him, including his colleagues, family, friends—and even the suspects he pursues.
Relentlessly suspenseful and furiously paced, peopled with conflicted, fallible characters who leap from the page, The Kept Woman is a seamless blend of twisty police procedural and ingenious psychological thriller — a searing, unforgettable novel of love, loss, and redemption.
My Rating:
Favorite Quotes:
I hate rape cases. You don't throw a murder case to a jury and they ask, 'well, was the guy really murdered or is he lying because he wants the attention? And what was he doing in that part of town? And why was he drinking? And what about all those murderers he dated before?'
That odor in the air is the smell of shit hitting the fan.
Angie was a cockroach. She left disease wherever she went and nothing could destroy her.
My Review:
I was totally consumed while reading this brilliantly plotted, well-written, and mesmerizing book. It was cunningly constructed, intricately detailed, smartly written, and highly intriguing. These fascinating characters stayed in my head long after I finished reading. The expertly crafted plot was all kinds of twisted - and sadly relevant to our society. I was sucked into the tale quickly; my cranium prickled with curiosity and my interest never flagged. The storyline was often taut with tension and I found myself so deeply engaged that I noticed at times that I was reading faster and faster as if trying to match the frenetic pace of the occurring events or the ranting character when she went on a tear. This was my first outing with Ms. Slaughter and I could kick myself for not noticing her work sooner. I rarely read books of this genre but I now see the error of my ways and am ready to remedy that oversight. I received this book for review from HarperCollins and TLC Book Tours, for which I will be forever grateful.
Empress DJ
Purchase Links
About Karin Slaughter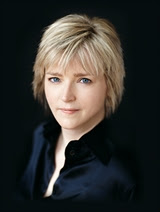 Karin Slaughter is the #1 internationally bestselling author of more than a dozen novels, including the Will Trent and Grant County series and the instant New York Times bestselling standalones, Cop Town and Pretty Girls. There are more than 35 million copies of her books in print around the world.