The Lady Travelers Guide to Deception with an Unlikely Earl
(The Lady Travelers Society #3)

Mass Market Paperback: 384 Pages
Publisher: HQN; Original edition (November 20, 2018)
Set sail for love in this sparkling new adventure in #1 New York Times bestselling author Victoria Alexander's Lady Travelers Society series.
Harry Armstrong has spent years in Egypt, recovering relics and disregarding rules. Now he's back in England with a new title and a new purpose: penning his exploits. But his efforts are overshadowed by London's favorite writer about Egypt—a woman they call The Queen of the Desert, of all things. Worse, her stories—serialized in newspapers and reprinted in books—are complete rubbish.
Miss Sidney Honeywell didn't set out to deceive anyone. It's not her fault readers assumed her Tales of a Lady Adventurer in Egypt were real! Admitting her inadvertent deception now would destroy her reputation and her livelihood. But when the Earl of Brenton challenges her to travel to Egypt to prove her expertise, accompanied by his dashing, arrogant nephew, what choice does she have but to pack her bags?
With the matchmaking founders of the Lady Travelers Society in tow, Harry is determined to expose Sidney's secret. But the truth might not be as great a revelation as discovering that love can strike even the most stubborn of hearts.
My Rating:
Favorite Quotes:
She had insisted on accompanying Sidney for the sake of propriety although they both knew propriety was the last thing on the older woman's mind. She simply didn't want to miss what happened next and no doubt had orders from Poppy and the lady travelers guide to Gwen to report back every detail.
The next elderly lady, with graying dark hair, a hat just as ridiculous as the first woman's and the overbearing manner of a dragon about to belch flames, eyed him with obvious disgust.
"Don't be absurd. The world is simply littered with Charleses, a fair number of them dead. Why, if I was bothered by every dead Charles I encountered, I would spend most of my time being out of sorts." She cast Sidney an affectionate smile. "I daresay my husband would be honored to lend his name to your imaginary husband."
My Review:
I rarely read historical novels as I chafe at the reminders of how poorly women were treated, but I would read them with greater regularity if I could tap into a source as enjoyable, cleverly written, and wittily amusing as this one. I delighted in this entertaining and lively tale. The writing was lush with sumptuous descriptions, lavish details, and snappy humor, as well as engaging storylines and a blossoming romance. I derived great pleasure when the elderly women attempted to delicately provide their younger and inexperienced friend with a crash course in sex education, it was totally smirk-worthy.
Not only did these sly and spry and highly adventuresome mature widows take my dream vacation to Egypt, but they were also shrewd enough to finagle someone else into paying for their first-class accommodations – I was chartreuse with envy! For years I have fantasized about a leisurely ocean voyage on the way to cruising down the Nile and touring the pyramids, of course, that would be without the grave robbers, annoying bandits, skin searing sun, infuriating insects, poisonous snakes, and pesky sand. In addition to scoring free travel, this intrepid group was in the thick of solving of a centuries-old mystery, made a fantastic archeological discovery, and one of them spent the night in the royal harem – innocently discussing books with the women. Sigh, I fear the closest I will ever come to the Dark Continent will be slumbering on linens of Egyptian cotton and dreaming of Ra.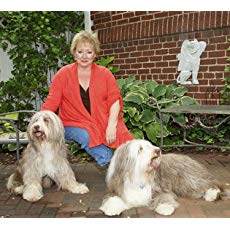 New York Times bestselling author Victoria Alexander was an award winning television reporter until she discovered fiction was much more fun than real life. She turned to writing full time and is still shocked it worked out.

Since the publication of her first book in 1995, she has written thirty-one full length novels and six novellas. Find a complete list on her website and chat with her on Facebook.