Where Hope Begins
by Catherine West

Paperback: 368 pages
Publisher: Thomas Nelson (May 22, 2018)
Sometimes we're allowed to glimpse the beauty within the brokenness . . .
Savannah Barrington has always found solace at her parents' lake house in the Berkshires, and it's the place that she runs to when her husband of over twenty years leaves her. Though her world is shaken, and the future uncertain, she finds hope through an old woman's wisdom, a little girl's laughter, and a man who's willing to risk his own heart to prove to Savannah that she is worthy of love.
But soon Savannah is given a challenge she can't run away
from:
Forgiving the unforgivable. Amidst the ancient gardens and musty bookstores of the small town she's sought refuge in, she must reconcile with the grief that haunts her, the God pursuing her, and the wounds of the past that might be healed after all.
Where Hope Begins is the story of grace in the midst of brokenness, pointing us to the miracles that await when we look beyond our own expectations.
My Rating:


Favorite Quotes:
This miserable moment… it feels freeze-framed. Forever cemented in memory—this one defining moment in my life when I realize all I've done, everything I've poured myself into, has been for naught.
I don't want to hate Kevin. And I don't, always. Just most of the time.
We've been in and out of counseling for the past ten years. Christian counseling. Psychiatric counseling. Family and couples counseling. I can quote books verbatim on how to put a family back together after loss, how to grieve, how to pray for your husband. I must have missed the one on how to keep him at home.
Brock Chandler is all straight white teeth and sparkling eyes and smiles like a movie star. And his voice sounds like Matthew McConaughey's. Suddenly I can't find mine.
He knew that kind of pain. That searing forest-fire heat that eventually fizzles to dormant embers but remains a threat, a slow burn, never fully extinguished and easily flammable.
Her idea of gardening is buying a flower arrangement from Whole Foods, putting it on the table, and waiting for it to die.
…we walk toward the house in step. It's a practiced rhythm we've forgotten somehow, but it has not forgotten us.
My Review:
I was astounded by the level of deft handling, observant insight, and thoughtful sensitivity given to an abundant amount of heavy personal issues and unfortunate circumstances. While my eyes may occasionally burn and sting, I am rarely moved to actual tears while reading, although this emotive and heartbreaking story had me sobbing, and more than once. I was often annoyed with the characters' selfish tendencies for denial, indecision, and procrastination, but most of us walking this earth are guilty of those same foibles at various times in our lives. The premise and storylines were relevant, well-crafted, painfully heart-squeezing, and surprisingly engaging. I've never read Ms. West's work before and despite my discomfort and tendency to eschew religious themes, I was quickly immersed and fully invested in her superbly written tale, although I was conflicted in whom to root for. Her writing style was smooth, easy to follow, and kept me reading far later than I expected. I fully enjoyed and appreciated her wry humor, which was often stealthily dropped in unexpected places. The characters were realistically flawed and as fleshed out and knowable as my next-door neighbor, maybe even more so. I was definitely a Brock fan all the way through and far from joining team Kevin until he tore off a piece of the self-righteous preacher's wife, and from then on I had to take him seriously, I just had to, as he sorta became my hero. The ending was highly satisfying and although extremely sad, it was also the best possible outcome.
About Catherine West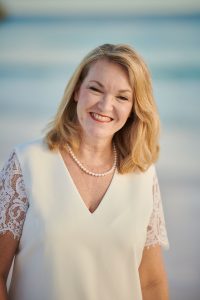 Catherine West writes stories of hope and healing from her island home in Bermuda. When she's not at the computer working on her next story, you can find her taking her Border Collie for long walks or reading books by her favorite authors. She and her husband have two grown children and one beautiful granddaughter. Catherine is the winner of the 2015 Grace Award (Bridge of Faith) and the Romance Writers of America's Faith, Hope & Love Reader's Choice Award (The Things We Knew). Her most recent novel, The Memory of You, released March 2017 and Where Hope Begins releases in May 2018. Catherine loves to connect with her readers and can be reached at
Catherine@catherinejwest.com.
.
Connect with Catherine