Foretold
(A Ghost Gifts Novel #2)
by Laura Spinella

Laura Spinella's Ghost Gifts trilogy continues as Aubrey's otherworldly talents—and a visit from a former lover—threaten to tear apart her family.
A mysterious death in a muddy swamp, missing children in different states…psychic Aubrey Ellis and her partner, investigative reporter Levi St John, have their hands full. The added strain of raising their son, who struggles with his own psychic gift, pushes life to the brink of collapse.
Enter Zeke Dublin—Aubrey's first love from her carnival past. Tensions escalate when it's clear that the attraction between them is alive and well. But as Levi discovers disturbing clues about the body pulled from the swamp, he begins to suspect Zeke's sudden presence is more than coincidence.
As Aubrey's uncanny abilities take an unsettling turn, she fears that this time her own child is in danger. Who can Aubrey trust to help solve the unknowns surrounding her life—the father of her son, or a man who's always understood the deepest secrets of her psychic gift?
My Rating:
Favorite Quotes:
If it was possible to be silent on top of silent, that's what she was doing. Unfortunately, it backfired, and silence translated into a loud confession.
Dylan—a curly-haired kid with fat dimples and bright eyes—burped loud enough to rattle bric-a-brac.
My Review:


The mystery and intrigue were increasingly compelling in depth and breadth, with additional twists, unique complications, unpredictable detours, and remarkable discoveries. The tautly written and complex storylines were deviously well constructed and maddeningly paced and along with the prickly and contentious relationship between the main characters; I was on edge and anxious for elucidation and resolution. The massive amount of clues was daunting yet more puzzling was their cryptic nature which required keen attention and concentration. I was rapt to my Kindle and hugely annoyed when my traitorous eyes demanded I stop for sleep. I had been a bit conflicted about Zeke throughout, but the sweetness of his final story broke my heart. I am more than eager to dive into book three, Echo Moon.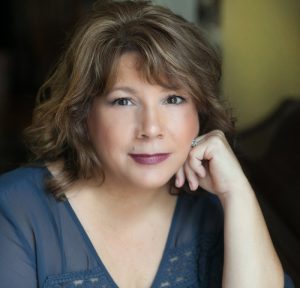 About Laura Spinella
Laura Spinella is the author of the Ghost Gifts trilogy—including Echo Moon, Foretold, and the #1 Kindle bestseller Ghost Gifts—as well as the highly acclaimed Unstrung and the award-winning novel Beautiful Disaster. She is a two-time RITA finalist who consistently receives reader and industry praise for her multifaceted characters, emotional complexity, and intriguing storylines.
Spinella lives with her family near Boston, where she can always be found writing her next novel. She enjoys hearing from readers and chatting with book clubs. Visit her at
www.lauraspinella.net
.