What Blooms from Dust
by James Markert

Paperback: 352 pages
Publisher: Thomas Nelson (June 26, 2018)
Just as Jeremiah Goodbye is set to meet his fate in the electric chair, a tornado tears down the prison walls, and he is given a second chance at life. With the flip of a coin, he decides to return to his
hometown
of Nowhere, Oklahoma, to settle the score with his twin brother Josiah. But upon his escape, he enters a world he doesn't recognize—one that has been overtaken by the Dust Bowl. And the gift he once relied on to guide him is as unrecognizable as the path back to Nowhere.
After one jolt in Old Sparky, Jeremiah sees things more clearly and begins to question the mysterious circumstances surrounding the murders he was accused of. On his journey home, he accidentally rescues a young boy who follows him the rest of the way, and the pair
arrive
at their destination where they are greeted by fearful townspeople. When the Black Sunday storm hits the very next day, the residents of Nowhere finally begin to let the past few years of hardship bury them under the weight of all that dust.
Unlikely heroes, Jeremiah and his new companion, Peter Cotton, try to protect the townspeople from themselves, but Jeremiah must face his nightmares and free himself from the guilt of flipping the coin on those men who died.
Filled with mystery and magic, What Blooms from Dust is the story of finding hope in the midst of darkness and discovering the beauty of unexpected kindness.
My Rating:
Favorite Quotes:
Wilmington said he felt a duster coming every morning. He liked to hedge his bets and say he told you so.
Least when I talk I don't look like a mouse nibblin' on cheese…
Back when you had hair on your head and a stomach that fit in your pants. How do you continue gaining weight when the rest of us can't seem to keep it?
Your mother died too young, Jeremiah. Death ain't picky when it comes to things like that. It takes you when it takes you and then leaves you to cope without the least bit of instructions on how you're supposed to do it.
There's signs up everywhere in California… They say No Okies Allowed. They don't want us. Nobody wants us. We're no different from the Indians and the Blacks and the Mexicans… They put us on the same signs. The same signs.
My Review:
"Health, wealth, and opportunity," were the promises on a brochure depicting a lovely town with paved roads and a wholesome and established community which had lured a train filled with hopeful new residents, all eager to see their new investment of homes and property, only to find themselves in the middle of nowhere, in a field in the Oklahoma panhandle in 1920s. Swindled and fleeced. They settled there anyway and ironically named their newly established town, Nowhere, Oklahoma. I love irony and Mr. Markert used it cleverly throughout his intricately woven storylines and brilliantly paced and engrossing tale.
Masterfully crafted are the words that kept turning over in my mind as I read this evocative and superbly written book. It was quite stunning. Mr. Markert's cunning use of detail and striking descriptions plucked at all senses while sharp visuals danced through my gray matter. I became so engrossed in the story I grew hot and thirsty when they were parched; I could almost hear the wind and smell/taste/feel the grit of the relentless dust that permeated every scene. Their despair and exhaustion wafted across the pages. I also felt low-energy as they grew increasingly listless and despondent. But in addition to all that was the eeriness of the sixth sense and unexplainable good/evil type forces at play. I was fully invested in this startling and peculiar family drama from beginning to end and despite the arduousness of the tale; I was well pleased and fully satisfied with the journey.
Empress DJ
About James Markert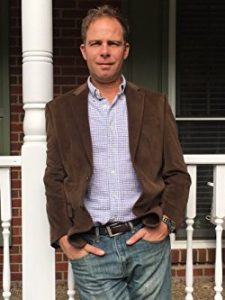 James Markert lives with his wife and two children in Louisville, Kentucky. He has a history degree from the University of Louisville and won an IPPY Award for The Requiem Rose, which was later published as A White Wind Blew, a story of redemption in a 1929 tuberculosis sanatorium, where a faith-tested doctor uses music therapy to heal the patients. The Angels' Share is his second novel, and he is currently working on his next historical, All Things Bright and Strange. James is also a USPTA tennis
pro,
and has coached dozens of kids who've gone on to play college tennis in top conferences like the BIG 10, the Big East, and the ACC.
Connect with James