(A Ghost Gifts Novel #3)

Paperback: 428 pages
Publisher: Montlake Romance (May 22, 2018)

A past life, a past war, and a past love. Peter St John can't foresee a future until he confronts his past sins.

When photojournalist Peter St John returns home after a two-year absence, the life he's been running from catches up. For years his mother's presence, coupled with Pete's own psychic gift, has triggered visits to 1917. There, he relives battles of the Great War, captures the heyday of Coney Island on canvas, and falls in love with an enchanting and enigmatic songstress named Esme. Present-day Pete still pines for Esme, and his love endures…but so does his vivid memory of killing her.

When he discovers family heirlooms that serve as proof of his crimes, Pete will have to finally confront his former life. He also meets a young woman—who is more than what she seems—with a curious connection to his family. As century-old secrets unravel, can Pete reconcile a murder from his past before it destroys his future?

"Enthralling and imaginative, where the past intertwines with the present, Spinella masterfully delivers in the third and final installment of her Ghost Gifts trilogy. Echo Moon is filled with suspense, mystery, and romance, and kept me turning the pages and on my toes until the very end, an ending I didn't see coming. I love unexpected twists! Fans, new and old, as Echo Moon can easily stand on its own, will devour Peter St John's story. I sure did." —Kerry Lonsdale, Wall Street Journal bestselling author of Everything We Keep

My Rating:


Favorite Quotes:
He longed for Esme the way you might want air in a sealed tomb.
I just saved you from a gang of boys with ideas that'd make nuns faint!
Listen to me when I tell you it won't stop, Pete. The dead haven't anything better to do.
His eyes were set so close Esmerelda thought he could be his own one-eyed act.
Caroline thinks she meditates. Translation, three hours of binge watching Dexter.
My Review:
All three books in this series have been astoundingly well-crafted, ingeniously plotted, cleverly written, and tantalizingly unpredictable. While I rapturously enjoyed all three books, Echo Moon was the most intriguing, complicated, and riveting of the bunch. I had to read it slowly to ensure that I retained all the twisty and cryptic clues, but more so that I could savor every well-chosen word. The storyline cleverly brought together all the unique characters and their talents, foibles, and leftover mysteries from the previous installments, and incorporated them with new and complex issues that had been tormenting the main character of Pete since childhood.
I rarely read paranormal or otherworldly genres but I was stunned by the realization of how much I was enjoying the creative and unusual concepts that are so agilely put forth in this series in such a believable and plausible manner. I am in awe of Ms. Spinella's wordcraft. She has mad skills and I greedily covet her cunning wordplay. I found all her characters to be well drawn, endearingly quirky, and enticingly detailed, with my favorite being her "redheaded actress who ate like a lumberjack ." I read all three books in succession and have basically been living this family for close to a week. I am already mourning the loss of their company.
Empress DJ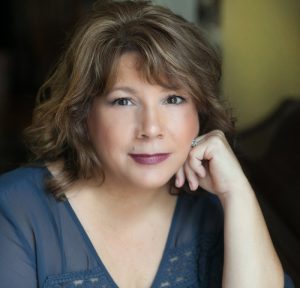 About Laura Spinella
Laura Spinella is the author of the Ghost Gifts trilogy—including Echo Moon, Foretold, and the #1 Kindle bestseller Ghost Gifts—as well as the highly acclaimed Unstrung and the award-winning novel Beautiful Disaster. She is a two-time RITA finalist who consistently receives reader and industry praise for her multifaceted characters, emotional complexity, and intriguing storylines.
Spinella lives with her family near Boston, where she can always be found writing her next novel. She enjoys hearing from readers and chatting with book clubs. Visit her at
www.lauraspinella.net
.