The Chalk Man
by C. J. Tudor

Amazon | Books-A-Million | Barnes & Noble
Publisher: Crown (January 9, 2018)
The must-read thriller of 2018, this riveting and relentlessly compelling psychological suspense debut weaves a mystery about a childhood game gone dangerously awry that will keep readers guessing right up to the shocking ending
In 1986, Eddie and his friends are just kids on the verge of adolescence. They spend their days biking around their sleepy little English village and looking for any taste of excitement they can get. The chalk men are their secret code; little chalk stick figures they leave for one another as messages only they can understand. But then a mysterious chalk man leads them right to a dismembered body, and nothing is ever the same.
In 2016, Eddie is fully
grown,
and thinks he's put his past behind him. But then he gets a letter in the mail, containing a single chalk stick figure. When it turns out that his friends got the same message, they think it could be a prank . . . until one of them turns up dead.
That's when Eddie realizes that saving himself means finally figuring out what really happened all those years ago.
Expertly alternating between flashbacks and the present day, The Chalk Man is the very best kind of suspense novel, one where every character is wonderfully fleshed out and compelling, where every mystery has a satisfying payoff, and where the twists will shock even the savviest reader.
"Readers will undoubtedly be reminded of the kids of Stand by Me and even IT…[the] first-person narration alternates between past and present, taking full advantage of chapter-ending cliffhangers. A
swift,
cleverly plotted debut novel that ably captures the insular, slightly sinister feel of a small village. Children of the 1980s will enjoy the nostalgia."—Kirkus
"I haven't had a sleepless night due to a book for a long time. The Chalk Man changed that." —Fiona Barton, New York Times bestselling author of The Widow
My Rating:


Favorite Quotes:
My hair is still thick and mostly dark, but my laughter lines lost their sense of humour some time ago.
Many of the kids I teach at Anderbury Academy are what we call "challenging." In my day, they would have been called "a bunch of little shits." Some days, I need to mentally prepare myself to deal with them. Other days, the only preparation that helps is a shot of vodka in my morning coffee.
I knew she didn't really like Fat Gav's mum and dad. I heard her once tell Dad that they were "often-contagious." When I got older, I realized she'd actually said "ostentatious," but for years I thought she meant that they harboured some strange disease.
None of it was true, but rumors are like germs. They spread and multiply almost in a breath and, before you know it, everyone is contaminated.
BEING AN ADULT is only an illusion. When it comes down to it I'm not sure any of us ever really grow up. We simply grow taller and hairier. Sometimes, I still feel amazed that I am allowed to drive a car, or that I have not been found out for drinking in the pub.
No one ever found any answers at the bottom of a bottle. Not the point, of course. The point of reaching the bottom of the bottle is generally to forget the questions.
My Review:
The Chalk Man was a brilliantly paced and multi-layered tale with gripping storylines dripping with intrigue, and a riveting plot packed with odd and compelling characters. What more could you ask for? Not a damn thing says my stunned and addled brain. I was quickly sucked into the vortex of this enthralling story and had an extremely difficult time putting my Kindle down. Peculiar and distressing incidents, gruesome nightmares, and mysterious events were observed and cataloged by a sticky-fingered pre-teen which continued to haunt the forty-two-year-old man thirty years later. I devised theories I hoped would be incorrect as it would have hurt my heart, but I never saw this ending coming. I am awestruck with the knowledge this ingeniously crafted and insightfully written book was the author's first. She must be an evil genius and her family should be advised to count the empties, sleep with one eye open, and always remain in her good graces.
Empress DJ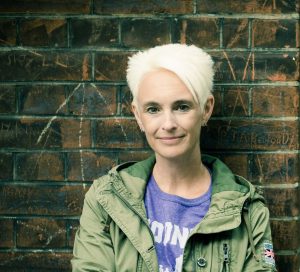 About C. J. Tudor
C. J. TUDOR lives in Nottingham, England, with her partner and three-year-old daughter. Over the years she has worked as a copywriter, television presenter, voice-over, and dog walker. She is now thrilled to be able to write
full-time
and doesn't miss chasing wet dogs through muddy fields all that much. The Chalk Man is her first novel.
Connect with C. J.