by

Victoria Alexander

Mass Market Paperback: 544 pages
Publisher: HQN Books (November 28, 2017)
Join the Lady Travelers Society in their latest romantic misadventure, from #1 New York Times bestselling author Victoria Alexander
She must secure her future
A lady should never be obliged to think of matters financial! But when Lady Wilhelmina Bascombe's carefree, extravagant lifestyle vanishes with the demise of her husband, her only hope lies in retrieving a family treasure—a Renaissance masterpiece currently in the hands of a cunning art collector in Venice. Thankfully, the Lady Travelers Society has orchestrated a clever plan to get Willie to Europe, leading a tour of mothers and daughters…and one curiously attentive man.
He must reclaim his heritage
Dante Augustus Montague's one passion has long been his family's art collection. He's finally tracked a long-lost painting to the enchanting Lady Bascombe. Convinced that the canvas had been stolen, he will use any means to reclaim his birthright—including deception. But how long before pretend infatuation gives way to genuine desire?
Now they're rivals for a prize that will change everything
Willie and Dante know they're playing with fire in the magical moonlit city. Their common quest could compromise them both…or lead them to happily-ever-after.
"Alexander has a marvelous ear for witty dialogue and creates winning characters." -Publishers Weekly
"For love, laughter, and lots of fun, read Victoria Alexander." -Stephanie Laurens, New York Times bestselling author
"Alexander is now the go-to author for historical romance readers in search of love and laughter." – Booklist
"Alexander is an original and so are her romances…Alexander fulfills readers' desires and then some." -RT Book Reviews
My Rating:


Favorite Quotes:
Willie and her father, the Earl of Hillborough, hadn't spoken in nearly eleven years. On occasion, she missed the father he might have been but not once did she regret the loss of the father he was.
From the look on Marian's face one would have thought the clouds had parted and a shaft of celestial light had shone upon her. Willie wouldn't have been at all surprised if the dulcet sounds of heavenly choirs weren't ringing in Marian's ears at this very moment.
Yes, well, the idea of daughters someday sounds delightful when someday is very far off. But then someday arrives and you're living with this clever, subtly deceitful creature whose greatest joy in life is outwitting you because she thinks you are the enemy of all she wants in life. Oh, and she's certain you're stupid, as well…
I suppose if one is going to have a reputation it should at least be interesting.
I stopped being horribly narrow-minded about that sort of thing years ago. Mind you, I do not approve of infidelity or flagrant immorality but I have come to accept that even the best of us are fallible… Not me, of course, but most people.
My Review:
I rarely read historical fiction but this was cleverly amusing, good fun, and an educational travelogue of sorts, I pleasantly toured through Europe with first-class accommodations and a lively set of fellow travelers, without having to leave my home. I toured Paris without standing in even one line, nor was I forced to endure a screaming baby or a bratty child kicking my seat while trapped on an airplane for hours. I also learned quite a bit about art and history, and that the Eiffel Tower was expected to be a temporary structure, and my mother always scolded me for reading fiction while claiming it was a waste of time! This was my first experience reading Victoria Alexander's work and I found it delightful amusing and well plotted. Her characters were intriguing quirky, well drawn, and wily. Despite the unexpected length and considerable time required to complete a book of 544 pages, I reveled in the refreshing change of pace of an infrequent genre and the crisp style and tone of the narrative as well as the conundrums and entertaining storylines. But my favorite parts of the book involved the amusing banter and clever exchanges between the feisty characters as they engaged in humorous battles of wit and sass as they trundled along and melded their individual agendas into a united caper.
Empress DJ
About Victoria Alexander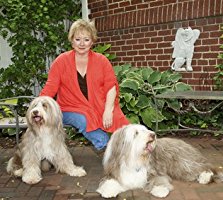 New York Times bestselling author Victoria Alexander was an award-winning television reporter until she discovered fiction was much more fun than real life. She turned to writing full time and is still shocked it worked out.
Since the publication of her first book in 1995, she has written thirty-one full-length novels and six novellas.
Connect with Victoria