by B.J. Daniels

Mass Market Paperback: 384 pages
Publisher: HQN Books (November 28, 2017)
Nothing will stop a Cahill cowboy from protecting what's his.
After a rocky marriage and even rockier divorce, Sheriff Flint Cahill finally has something good in his life again. Maggie Thompson's down-to-earth charm and beautiful smile hooked him from the start. When she disappears on the day they plan to start their lives together, all signs point to abduction—and his ex-wife.
Functioning on adrenaline and instinct, Flint must call on his every resource to bring Maggie home before it's too late. His past and future are blurred. Maggie's only chance at surviving her abductor and a raging winter storm depends on an old vendetta that could destroy it all. But the Cahills don't give up easily, and Flint's love will have to be strong enough to conquer anything, including the unimaginable.
My Rating:


Favorite Quotes:
She repeated the woman's words verbatim. It was a gift from when she'd been the worst gossip in the county. She never got what she'd heard wrong.
She's the kind of woman who would eat her young.
My Review:
Two women had disappeared from a small rural community with one overlapping similarity recounted by witnesses. Many chapters later we discover many more overlapping issues for these two well-constructed mysteries that had confounded the authorities and crossed three state lines and spanned over three decades. I was confounded by the knowledge that this talented author has written thirteen different series for a total of two-hundred-thirty books, and this is just my second time to stumble upon one of her intriguing tales. For shame, I have been remiss. Ms. Daniels is a gifted storyteller and weaves an engaging and entertaining tale with suspense, humor, quirky yet knowable characters, and colorfully described and vividly detailed visuals. The story was well-crafted and deviously plotted with twists and turns and blind alleys to keep us hapless readers on our toes as well as humble. I will certainly be humbly watching her listings from now on.
Empress DJ
About B.J. Daniels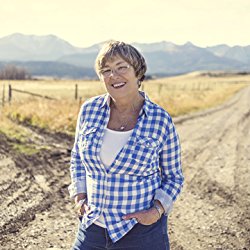 NYT and USA Today Bestselling author B.J. Daniels was born in Texas but moved with her family to Montana at the age of five. Her first home was a cabin in the Gallatin Canyon and later a lake house on Hebgen Lake outside of West Yellowstone.
Most of her books are set in Montana, a place she loves. She lives now in a unique part of the state with her husband and three Springer Spaniels.
When she isn't writing, she loves to play tennis, boat, camp, quilt and snowboard. There is nothing she enjoys more than curling up with a good book.
Connect with B. J. Daniels