Once a Liar
Paperback: 384 pages
Publisher: Park Row; Original edition (January 29, 2019)
In this electrifying psychological thriller, a high-powered sociopath meets his reckoning when he's accused of the brutal murder of his mistress.

Did he kill Charlie Doyle? And if he didn't…who did?

Peter Caine, a cutthroat Manhattan defense attorney, worked ruthlessly to become the best at his job. On the surface, he is charming and handsome, but inside he is cold and heartless. He fights without remorse to acquit murderers, pedophiles and rapists.

When Charlie Doyle, the daughter of the Manhattan DA—and Peter's former lover—is murdered, Peter's world is quickly sent into a tailspin. He becomes the prime suspect as the DA, a professional enemy of Peter's, embarks on a witch hunt to avenge his daughter's death, stopping at nothing to ensure Peter is found guilty of the murder.

In the challenge of his career and his life, Peter races against the clock to prove his innocence. As the evidence mounts against him, he's forced to begin unraveling his own dark web of lies and confront the sins of his past. But the truth of who killed Charlie Doyle is more twisted and sinister than anyone could have imagined…

"A.F. Brady delivers a knockout sophomore effort. Peter Caine has a very Patrick Bateman air about him, and the whole story sizzles with sinister madness and incessant tension right to the last page. Not to be missed." —J.T. Ellison, NYT Bestselling author of Tear Me Apart

"A smart, nuanced and spine-chilling portrayal of a sociopath walking among us… Brady's depth of knowledge and skillful hand make us root for him in spite of everything he may—or may not—have done. Once a Liar is a thriller you won't soon forget." —Wendy Walker, bestselling author of All Is Not Forgotten

"Brady is a master of intense characters and riveting storylines." —Kaira Rouda, bestselling author of Best Day Ever and The Favorite Daughter
Claire has been living in my house for eight years, but I still can't fully acclimate to cohabitating with another human being with her own will and own needs… I still stumble over her things, crash into her when she stands between me and my destination and I can never remember how she takes her coffee.
I realize that I am lying to myself as much as I'm lying to everyone else. I'm not in control, and I see now that I never have been. I've just lied so much that I believe myself.
"You, sir—" he leans forward and bores a hole in my face with his penetrating eyes "— have a monster inside of you. The only question is, can you keep it contained? That is up to you and you alone."
I was enthralled by this deviously clever tale of Peter Caine, a highly successful and brilliant criminal defense attorney who had become as contemptible and loathsome as the wealthy yet repulsive criminals he represented. Peter didn't start out that way but had become morally bankrupt, a prolific liar, a social fraud, a manipulative and narcissistic sociopath, and an atrocious human being. He had callously abandoned his child and avoided having any type of relationship with him, seeing his mere existence as a nuisance until deciding that taking custody of his motherless child would be good for his image. He put on a performance when required in public but he had long ago buried his emotional self and selfishly found human interactions to be an arduous waste of his energy. But was he a murderer? I couldn't decide, but I really didn't think so as he seemed too arrogant and emotionally lazy to have committed such a passionate act, although… he might well have if he felt his well-crafted persona was threatened.
Peter
was despicable and I despised him, deeply; yet the wily wordsmith known as A. F. Brady wove such a beguiling tale I was incapable of putting my Kindle down. Her word voodoo was far too strong. I was captivated, too invested, hopelessly intrigued, and deeply engrossed. I couldn't tear myself away from this cunningly contrived story and read it in a day. The storylines were adroitly plotted, insidious sly, and quickly sucked me into the vile vortex of Peter's inner musings. I don't believe I even took a full breath until the last page. It was wicked good!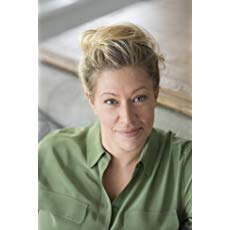 About A. F. Brady
A.F. Brady is a New York State Licensed Mental Health Counselor/Psychotherapist. She holds a Bachelor's degree in Psychology from Brown University and two Masters degrees in Psychological Counseling from Columbia University. She is a life-long New Yorker and resides in Manhattan with her husband and their family.
Connect with A. F.