Lone Star Christmas:
Cowboy Christmas Eve
(A Coldwater Texas Novel)
by Delores Fossen
Mass Market Paperback: 384 pages
Publisher: HQN; Original edition (October 1, 2018)

A family crisis brings him home…
Just in time for Christmas
Cattleman Callen Laramie has no intention of returning to his hometown of Coldwater,
Texas
until a Christmas wedding and a family secret convince him he has no choice. And when he's reunited with his childhood crush, the girl who'd always been off-limits, Callen knows leaving might not be so easy this time.
Shelby McCall is as pretty as a Christmas snowfall, and Callen wants to kiss her under the mistletoe…and the Christmas tree…and the stars. But once Shelby knows the whole truth behind this homecoming, will their holiday fling come to an abrupt end? Or will she accept the gift of his heart?
It was Gopher Tate, and he threw open his heavily lined raincoat to flash her. He had a blue bow tied around his wrinkly junk that was covered by a pair of whities that weren't so tight. They were at least three sizes too big, and the elastic in the waist was shot… Shelby gave him a glare that was colder than the sleet pelting his thinly covered privates. "Close your coat, Gopher, before you have to explain to the ER folks why you got frostbite on your wanger."
She was reasonably sure that had she been wearing toenail polish, it would have melted, too.
Seems a shame to let the pizza go cold after you slaved over the phone to order it…
The cat was there, sitting by a nearly empty food and water dish and glaring at Callen as if he were responsible for multiple crimes against felines and humanity.
My Review:
Delores Fossen has gifted us with the early Christmas present of a new series, and she has started it off with her own special blend of damaged yet sexy and lovable heroes, clever wry humor, heart squeezing storylines, colorful and quirky small-town characters, and a sweet romance with delectably steamy bits. I always look forward to meeting her amusing and uniquely peculiar characters and she didn't disappoint with the introduction of Rosy - the armadillo obsessed geriatric bride-to-be with a taxidermy shop called Much Ado About Stuffing; and Gopher - the pervy elderly flasher who was well known yet never actually naked under his raincoat. As always, her storylines were engaging, entertaining, and well-paced. I'm already primed for the next installment.
Empress DJ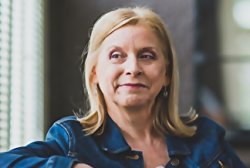 About Delores Fossen
USA Today bestselling author, Delores Fossen, has sold over 70 novels with millions of copies of her books in print worldwide. She's received the Booksellers' Best Award, the Romantic Times Reviewers' Choice Award and was a finalist for the prestigious Rita ®. In addition, she's had nearly a hundred short stories and articles published in national magazines.