Evergreen Tidings from the Baumgartners
by Gretchen Anthony

Paperback: 368 pages
Publisher: Park Row; Original edition (October 16, 2018)
A formidable matriarch learns the hard way that no family is perfect in this witty, sparkling debut novel
Dearest loved ones, far and near—evergreen tidings from the Baumgartners!
Violet Baumgartner has opened her annual holiday letter the same way for the past three decades. And this year she's going to throw her husband, Ed, a truly perfect retirement party, one worthy of memorializing in her upcoming letter. But the event becomes a disaster when, in front of two hundred guests, Violet learns her daughter Cerise has been keeping a shocking secret from her, shattering Violet's carefully constructed world.
In an epic battle of wills, Violet goes to increasing lengths to wrest back control of her family, infuriating Cerise and snaring their family and friends in a very un-Midwestern, un-Baumgartner gyre of dramatics. And there will be no explaining away the consequences in this year's Baumgartner holiday letter…
Full of humor, emotion and surprises at every turn, Evergreen Tidings from the Baumgartners brings to life a remarkable cast of quirky, deeply human characters who must learn to adapt to the unconventional, or else risk losing one another. This is the story of a family falling to pieces—and the unexpected way they put it all back together.
Barb was steeped in the classics, but the only literary references Cerise knew came from the mandatory hours spent next to her mother watching Masterpiece Theatre on PBS. All that time invested and the only things she had to show for it were a decent British accent and a canny ability to let her thoughts wander behind open eyes.
If the Hesse family were birds, we'd be California condors… No, members of the vulture family and nearly extinct.
He watched as his soon-to-be-former boss, a toad of a guy who kept his dermatologist busy with retinol treatments and mole removal, straightened the pin tethering his Dolce & Gabbana tie to his Burberry shirt… I hope you croak, Richard wanted to say. I hear that's what toads do.
My Review:
I loved this book from the start and was soon smirking as I relished the smartly written and clever humor, which quickly led to giggle-snorting and then on to full-on laughing aloud, which occurred several times before I finished. I adored the full slate of fascinatingly quirky and odd characters, but the winner, by far, of the most expertly crafted and deftly depicted character sweepstakes was the petty, shallow, and highly manipulative Violet. Violet was a meddlesome helicopter parent who was ridiculously intrusive, arrogant, judgmental, and an exacting perfectionist with everything she did, whether it was controlling the various committees she spearheaded or in keeping her home surgically clean. Violet's to-do list was never-ending as she was constantly scheming and often had several going at once, although in her rationalizations it was always for the betterment of her family; her inner musings were comedic gold and highly entertaining. The storylines were ingenious and highly eventful while the writing was laced with insightful observations and packed with lip twitching levity. I couldn't put my Kindle down, as I couldn't wait to see what outrageous situation would pop-up next. I was stunned and awed to realize this was the author's debut; it was a delight to read and a treasure to have discovered. Gretchen Anthony is definitely one to watch and has a new fangirl.
Empress DJ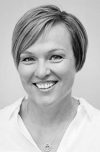 Gretchen Anthony is a Minnesota-based writer and humorist whose work has been featured on scarymommy.com, medium.com and thewritelife.com. She's also spent decades as a ghostwriter and has written for some of the best personal brands in the United States, from CEOs to doctors and start-up superstars to BBQ pros. Evergreen Tidings from the Baumgartners is her first novel.





Connect with Gretchen