The Wild Woman's Guide to Traveling the World
Paperback: 352 pages
Publisher: Center Street (June 6, 2017)
Fans of Sophie Kinsella and The Devil Wears Prada will love this smart, sexy debut novel of wanderlust.
Objectively, Sophie is a success: she's got a coveted job at a top consulting firm, a Manhattan apartment, and a passport full of stamps. It isn't quite what she dreamed of when she was a teenager dog-earing pages in exotic travel guides, but it's secure. Then her best friend bails just hours after they arrive in Hong Kong for a girls' trip, and Sophie falls for Carson, a free-spirited, globetrotting American artist. He begs her to join him on his haphazard journey, but she chooses responsibility and her five-year plan.
Back in New York, that plan feels less and less appealing. As Sophie recalls the dreams she's suppressed, the brief international jaunts she sneaks in between business trips no longer feel like enough. Carson isn't ready to let her go either, but as they try to figure out their relationship, Sophie realizes she may have to pursue her passions with or without him.
Praise
"With its spirited yet credible plot and vividly intricate characters, this debut novel shines." — Library Journal (starred review)
"…a fun, sexy debut perfect for readers who love exotic settings and a great love story. For those wishing to indulge their wanderlust, or who have dreams too big for tidy little boxes, this is an incredibly satisfying read." —
Karma Brown
, bestselling author of Come Away With Me
"…brilliantly navigates one woman's quest to let go of what is practical to pursue her passion and surrender to her inner dreamer." —
Kerry Lonsdale
, bestselling author of Everything We Keep
"Can a novel be smart and loads of fun? Kristin Rockaway's debut is proof that it's possible. Warm, witty, and completely delightful, this book had my inner escapist itching to hop on the next flight out of town." —
Camille Pagán
, bestselling author of Life and Other Near-Death Experiences
"Kristin Rockaway is a wise and fresh new voice in women's fiction and this book was a delight from start to finish." —
Anita Hughes
, author of Christmas in Paris
My Rating:


Favorite Quotes:
Elena rarely left the tri-state area; her idea of an exotic getaway involved tanning on the Jersey Shore.
But with my focus on the future, I rarely immersed myself in the right now. My life was reduced to a series of check marks, ticking off each goal I achieved without taking the time to revel in my accomplishments. As soon as I hit one target, I was already reaching for the next one and contemplating the one after that. I rushed full speed ahead, my sights pointed sharply forward, never stopping to take a look at what was around me.
I can sketch in Hong Kong, in Australia, in New York. I can find an adventure wherever I am. The only constant I need in my life is you. So wherever you go, I'll follow.
My Review:
Sophie loved to travel and plan travel and dream up detailed imaginary itineraries, although she had unfortunately chosen the wrong travel partner in Elena who decided on their first night there that she just wasn't feeling the Hong Kong vacation that Sophie had planned and paid for and after a tense dinner of informing Sophie of all her unlovable and miserable flaws, Elena flew back home the very next day. Wow, this was the opening scene of the story and although I flinched a few times, I was hooked. Poor Sophie, I felt for her and was exasperated by her and also wanted to kick her more than a few times as I saw far too much of my twenty and thirty-something self in this character; it was rather eerie and more than a bit painful. I truly adored the character of Carson who proved that opposites not only attract, they can bewitch and fascinate. Carson was an artistic dreamer going through a nomad stage while Sophie was a highly structured and over anxious planner.
I was stunned to realize this insightful and well-written book was the author's first; every single character was colorfully described with vivid environmental details and interesting facts also tucked into the narrative. The premise was unique and entertaining while writing was cleverly observant, wryly amusing, and delightfully steamy. Ms. Rockaway has a bright future ahead of her.
Empress DJ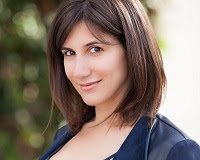 About Kristin Rockaway
Kristin Rockaway is a native New Yorker with an insatiable case of wanderlust. After working in the IT industry for far too many years, she finally traded the city for the surf and chased her dreams out to Southern California, where she spends her days happily writing stories instead of software. Her debut novel, The Wild Woman's Guide to Traveling the World, was released from Hachette Book Group in June 2017. When she's not writing, she enjoys spending time with her husband and son, browsing the aisles of her neighborhood bookstores, and planning her next big vacation.
Find out more about Kristin at her
website
, and connect with her on
Twitter
,
Facebook
,
Instagram
,
Pinterest
, and
Goodreads
.