Steal Away Home









Publisher: Thomas Nelson (January 2, 2018)




"This is a powerful story of grief, love, forgiveness, and holy mystery, and I loved it. Billy Coffey is a master storyteller." —Lauren Denton, USA Today bestselling author of The Hideaway





Owen Cross grew up with two

loves:

one a game, the other a girl. One of his loves ruined him. Now he's counting on the other to save him.





Owen Cross's father is a hard man, proud in his brokenness, who wants nothing more than for Owen to succeed where he failed. With his innate talents and his father's firm hand guiding him, Owen goes to college with dreams of the major leagues—and an emptiness full of a girl named Micky Dullahan.





Owen loved Micky from the first time they met on the hill between their two worlds: his middle-class home and her troubled Shantytown. Years later he leaves her for the dugouts and the autographs, but their days together follow him. When he finally returns home, he discovers that even peace comes at a cost. And that the hardest things to say are

to

the ones we love the most.





From bestselling author Billy Coffey comes a haunting story of small-town love, blinding ambition, and the risk of giving it all for one last chance.





"In one evening, a single baseball game, Coffey invites us into a lifetime. With lyrical prose and aching

description

we join Owen Cross on a journey of love, loss, faith, the unexpected—and America's favorite pastime." —Katherine Reay, author of Dear Mr. Knightley and The Austen Escape
My Rating:
Favorite Quotes:
The house looked wrong somehow, on some deeper level. Like sadness had distorted it as despair can a person. It spoke of a life beyond mere want, worse than disease. Shantytown was like a bruise on an apple that reached all the way to the core.
She offered a smile that reminded me of a bright ribbon tied to a broken gift.
The value in spending most of your Sunday morning having to sit still and listen to the most boring person you have ever known go on about your own badness was always lost to me.
A siren called in the distance. Horns blaring. It sounded as though every law enforcement officer in four counties was on its way, even though it was but one old Crown Vic traveling a little over two blocks from the sheriff's office. Clancy stopped the car at an angle to the sidewalk. He parted the crowd like Moses, calling each man and woman he passed by name.
So much of my childhood was spent in such dreaming. The past was unchangeable, better forgotten, the present often boring toil. Yet my tomorrows shone like lights on some far hill, offering me guidance and direction.
You never know what to do when a parent dies. Doesn't matter how old you are, you feel four years old again and lost inside some huge department store where bright lights shine in your eyes and everywhere are strangers that look like they're one bad choice away from grabbing you.
My Review:
This was a challenging read for me for many reasons, and I adored and begrudged it in equal measure. I remain conflicted even now while writing this review and am struggling in how to rate and classify this genre-straddling story as there were interesting and original elements of so many to chose from; Sports, Coming of Age, Small-Town, Southern, Christian, Fantasy, Paranormal, YA, Romance, and Contemporary and Literary Fiction.
The wisdom, dialogue, and inner musings were often comprised of the peculiar and compromised grammar of the Appalachians and required additional thought to fully absorb, however it was more than worth the effort. Having been reared also in the South but further west by overly rigid and strict Bible banging hypocrites who forced me through the church doors every time they opened, I generally eschew Christian religious themes as narrow-mindedness greatly annoys me, and this proved to be more than a bit of a problem for me as I read. However, the unusual twists to this story kept me reading despite my bias as the petty and small-minded tendencies were well affirmed and part of the tale.
There was a highly skilled, well-crafted, and pervasive heaviness or emotive heft to Owen's narrative that continually squeezed my heart as if his recounting of events was actually a heartfelt confessional of his regrets, anguish, and childhood discomfitures. Mr. Coffey's unique and cunning writing style was new to me and while I found some of his story threads tediously repetitive, I also found myself frequently struck by hot licks of brilliance, thoughtful and deeply moving insights, and a poignancy that stung my eyes and constricted my throat. There were five pages of favorite passages and saved quotes on my Kindle once I finished. All in all, it was oddly, unevenly, and annoyingly luminous.
About Billy Coffey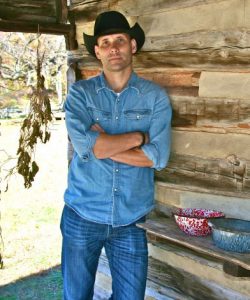 Billy Coffey's critically acclaimed books combine rural Southern charm with a vision far beyond the ordinary. He is a regular contributor to several publications, where he writes about faith and life. Billy lives with his wife and two children in Virginia's
Blue
Ridge Mountains.