Road to Paradise
by Paullina Simons
• Publisher: William Morrow Paperbacks

Love, passion, and friendship collide on the road trip of a lifetime in this breathtaking novel from Paullina Simons, internationally bestselling author of The Bronze Horseman and Tully.

There's no telling where a journey will lead you…

Shelby Sloane has big plans for the summer of 1981. She'll drive cross country in her graduation present—a classic yellow Mustang. In California, she hopes to find the mother who left her behind long ago, and then return East in time to start college. Her childhood friend Gina is desperate to reunite with her boyfriend in Bakersfield and has convinced Shelby to bring her along.

With Gina on board, Shelby's carefully mapped-out itinerary is quickly abandoned. Soon, so is their "no hitchhikers" rule when Shelby picks up a mysterious girl named Candy Cane, who sets them all on a new and dangerous course. Streetwise beyond her years and decked out with tattoos, piercings, and spiky hair, Candy is on the run from a past darker than anything the two suburban girls have ever known. Candy draws Shelby and Gina into her terrifying world, where life as they know it is turned upside down and there is no place left to hide.
My Rating:
Favorite Quotes:
If people ask, I say I'm a Christian because Christianity is the one religion where you don't have to do anything to still be a member. I like that, and since I don't want to say I'm nothing, I call myself a Christian.
Aunty Betty was waiting for us out on the dirt driveway. She was tall and thin, with watchful, perpetually moist brown platters for eyes. Her mouth was slightly ajar, as if she was about to say something, yet didn't.
'Sloane,' Gina said to me quietly, 'honestly, don't let it slip how you feel about small furry pooches. Even Hitler liked dogs.' 'Yes,' I barked. 'Preferred dogs to children. Quite the paragon of canine-loving virtue, that Adolf.'
You know how often I hear your little likely sob story... About twice a day, honeybunch. You're in Reno. The things I hear would make God lose faith in man, would make Jesus drink whiskey straight from the dog bowl. I've heard it all.
My Review:
Road to Paradise was not an easy read. Had I not read this deeply talented author before, I most likely would have given up, several times. However, knowing it would be worth the effort, I sucked it up and stuck it out to the end, and am ever so grateful that I did... although... I may have frequently cursed the author and also may have mumbled something about her being the cause of my early demise. The writing was darkly humorous with puns, snark, irony, and tons of cultural and musical references of the time. I became nostalgic between readings, I would have been finishing up graduate school during this period and my brain flooded with memories of clip-clopping in Dr. Scholls sandals, listing to the BeeGees and Elton John, and taking long car trips with my college friends during breaks. As the girls bickered through thirteen or so States, thousands of little incidental yet insightful details and ever-observant descriptions were mentioned - little details that later clearly became germane to the overall story. Tricky writer that Paullina Simons! She is also a remarkable observer of human nature as well as a clever wordsmith. I covet her mad skills!
Basically, this book of 530 pages printed in tiny font, chronicles three teenaged girls bickering for 4000 miles during a cross-country trek on small roads (no interstates) in a classic Mustang during the summer on 1981. Shelby was conned into giving Gina - her previous best friend from childhood (before a falling out), and a chronic liar, a ride from New York to California after Gina wears her down and points out that she would help Shelby by splitting the costs and driving. Shelby quickly learned that Gina was not going to be of much assistance as not only did Gina not possess a drivers license, she was also unable to assist with navigation or map reading... but she did manage to add many extra miles and days to their journey with family errands and deliveries along the way - which ended up being several States out of the way and not on the way. Shelby, being spineless, continued to acquiesce to every hair-brained scheme Gina concocted. Despite warnings and promises to their guardians not to do so, Shelby was unable to leave a mini-skirted, pink haired, and fragile looking young hitchhiker named Candy behind, and the three girls' adventure quickly became a perilous journey fraught with danger and one bad decision after another. Candy was enigmatic and fascinating to me although I found her arguments with Gina over religion to be increasingly tedious - but that may just be my own bias since religion is something I purposely avoid - as I tend to do most repellent and aggravating things. My advice to those of you who may be tempted to give up, pass it by, or have already declared a DNF - if I my agnostic brain could digest this tome and still tag it with one of my rare five-star reads, it may be worth your while to stay the course and give it a shot.
Empress DJ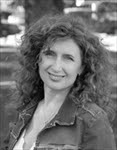 About Paullina Simons
Paullina Simons is an internationally bestselling author whose novels include Bellagrand and The Bronze Horseman was born in Leningrad in 1963. As a

child

she immigrated to Queens, New York, and attended colleges in Long Island. Then she moved to England and attended Essex University, before returning to America. She lives in New York with her husband and children.
Find out more about Paullina at her
website
, follow her on
Twitter
, and connect with her on
Facebook
.
ᐧ